Dubai is top five most visited cities in the world as short term rentals flourish
18-10-2022
writer@uniqueproperties.ae (Creative writer)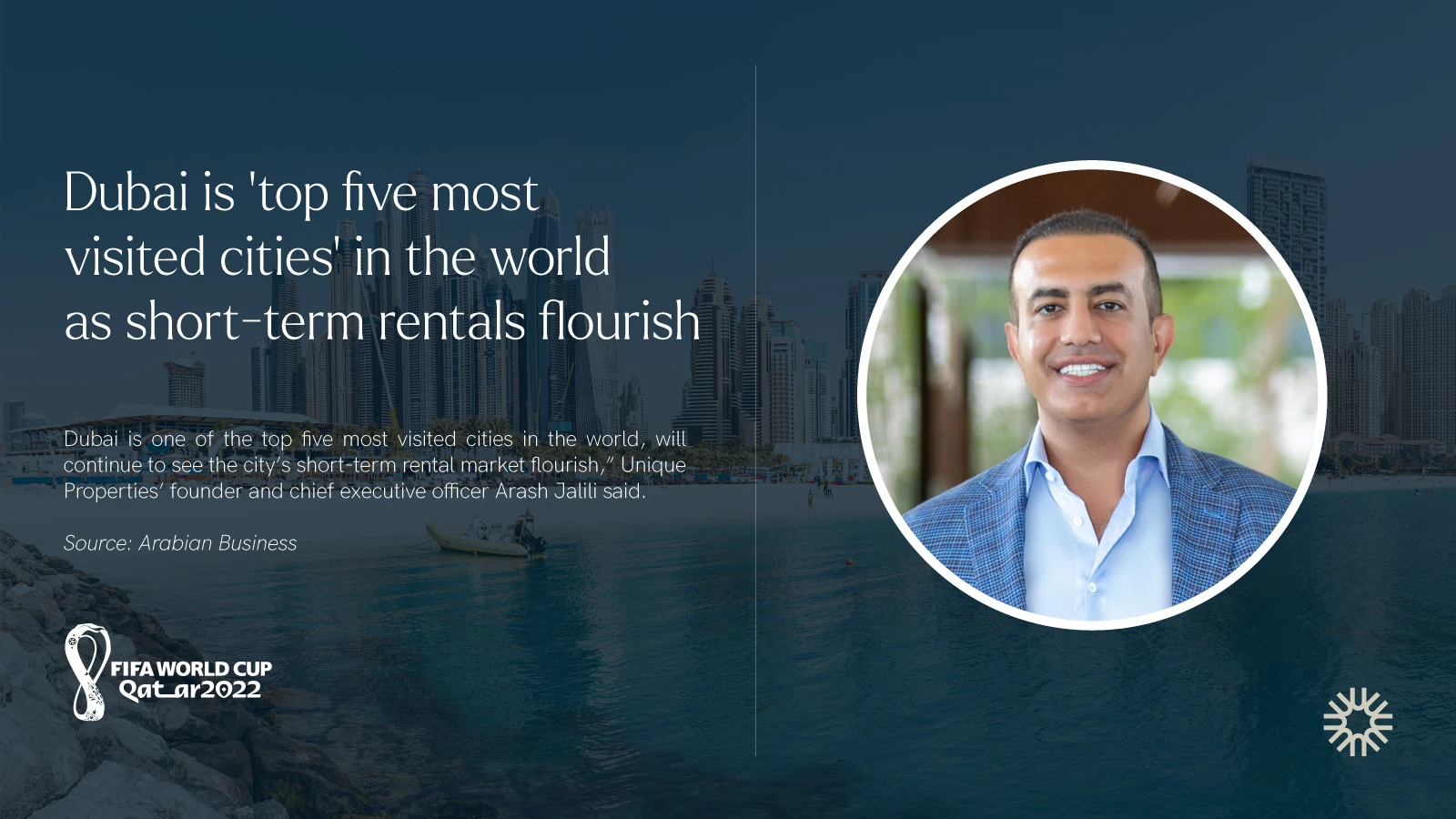 Dubai is one of the top five most visited cities in the world as the short-term rental market flourishes, especially as FIFA World Cup Qatar 2022 nears.


According to Dubai-based real estate agency Unique Properties, there has been a "strong demand" for short-term rentals in the UAE.


However, unlike the global boom for short-term rentals that has existed for a long time, the UAE only grew as a preferred city for the same in 2016, after it was made legal.


"The growth of Dubai's short-term rental market is far from over. Dubai still trails major markets like London which has double the number of vacant rental listings but the uptick in remote and work-from-home models, along with the fact that Dubai is one of the top five most visited cities in the world, will continue to see the city's short-term rental market flourish," Unique Properties' founder and chief executive officer Arash Jalili said.


Expo 2020 Dubai, which ran from October 1, 2021 to March 31, 2022, was a "key contributor" to the short-term rental market in the emirate, as international visitors were given the option to skip long-term tenancy contracts, thus retaining their "freedom of mobility, and save costs during the exhibition," the company said in an emailed statement.


Post the mega-event which ended this year, Dubai currently has 10,000 active vacation rental listings.


"There are 10,000 active rental listings in Dubai and their occupancy rates rose by 32 percent from December 2020 to December 2021; average daily rates have grown between 15 to 28 percent and monthly rates are rising to 94 percent."


Moreover, with the UAE easing mask rules, visitors are looking up to Dubai to stay or visit, especially ahead of the FIFA World Cup 2022 Qatar.


"More travelers are poised to visit Dubai in the coming months and contribute to the growth of the city's short-term rental market," Unique Properties said adding that the World Cup has placed the emirate as "a preferred destination to situate themselves before, during, and even after the event," globally.


"The emirates' proximity and easy access to Qatar, coupled with the fact that rents have risen 30 percent in Qatar compared to a year ago, will see Dubai benefit considerably," the real estate company said.