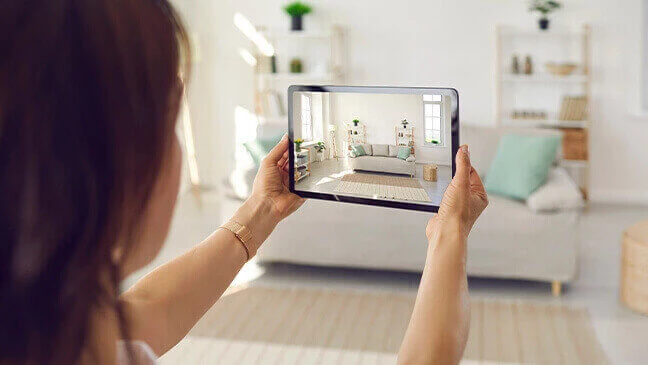 As a leading real estate agency, we understand the importance of effective marketing strategies when it comes to selling or renting your property. Our dedicated team of marketing experts combines innovative techniques with extensive market knowledge to ensure maximum exposure and attract qualified buyers or tenants for your property.
One of the cornerstones of our marketing strategy is professional photography. We work with skilled photographers who specialize in capturing the essence and beauty of properties. High-resolution images are taken to showcase your property's unique features, ensuring that it stands out in online listings, brochures, and other marketing materials. In addition to photography, we leverage the power of immersive technologies to enhance the marketing experience. Virtual tours and 3D floor plans enable prospective buyers or tenants to explore your property from the comfort of their own homes. To ensure maximum online exposure, we employ a multi-channel approach. We list your property on our user-friendly website, which is designed to capture the attention of visitors and provide them with comprehensive property information. Our website integrates advanced search features and filters to help potential buyers or tenants find the properties that best match their preferences.
We also utilize targeted digital marketing strategies to reach a broader audience. Our team implements search engine optimization (SEO) techniques to ensure that your property ranks highly in relevant search results. We leverage social media platforms, online advertising, and email marketing campaigns to generate awareness and engagement among potential buyers or tenants.
At Unique Properties, we understand the importance of showcasing your property in a compelling and informative manner. That's why we create engaging property brochures and marketing collateral that highlight its unique features, amenities, and location advantages. Our team of skilled copywriters crafts persuasive property descriptions that capture the attention of prospective buyers or tenants and effectively communicate the property's value proposition.
Furthermore, we have a wide network of industry connections, including real estate agents, relocation companies, and corporate clients. We leverage these relationships to tap into potential buyers or tenants who may be specifically interested in your property's location, size, or unique attributes. Our extensive network gives us a competitive edge in reaching qualified leads efficiently.
We understand that when it comes to leasing a property, having a clear and legally binding lease agreement, along with proper registration through Ejari, is crucial for both tenants and landlords. Our dedicated team of professionals is here to guide you through the lease agreement process and ensure that your tenancy is properly registered with Ejari, providing you with the necessary legal protection and peace of mind.
Lease Agreement:
When you choose to lease a property through Unique Properties, our team will provide you with a comprehensive lease agreement tailored to your specific requirements. We take the time to explain the terms and conditions of the agreement, ensuring that you have a clear understanding of your rights and obligations as a tenant.
Our lease agreements cover key aspects such as the duration of the tenancy, rental payment terms, security deposit requirements, maintenance responsibilities, and any special clauses or conditions specific to the property. We believe in transparency and fairness, and we strive to create a balanced agreement that protects the interests of both tenants and landlords.
Ejari Registration:
In Dubai, it is mandatory to register all tenancy contracts with Ejari, the official system for registering rental contracts. Ejari registration provides legal protection and ensures that the terms of the tenancy agreement are recognized by the relevant authorities. At Unique Properties, we guide both tenants and landlords through the Ejari registration process, ensuring compliance with local regulations.
As part of our service, we assist tenants in preparing the necessary documents for Ejari registration. Our team will help you gather the required information, including a copy of the lease agreement, valid identification documents, and the necessary proof of residency. We ensure that all documents are correctly filled out and submitted promptly to facilitate the registration process.
At Unique Properties, we understand the importance of efficient and transparent rent collection processes, as well as the need to handle security deposits securely and responsibly. We prioritize the financial aspects of your tenancy, ensuring a smooth and reliable experience for both tenants and landlords.
Rent Collection:
Our agency takes pride in implementing streamlined and hassle-free rent collection procedures. Our team is readily available to address any payment-related queries or concerns, ensuring that the process is convenient and efficient.
For landlords, we handle the rent collection process diligently, ensuring that payments are collected on time and promptly transferred to the designated accounts. We provide detailed statements and reports, keeping you informed about the status of rent payments and any outstanding amounts. With our proactive approach, we minimize any potential delays or discrepancies, allowing you to have peace of mind knowing that your rental income is managed efficiently.
Security Deposits:
We recognize the significance of security deposits in protecting the interests of both tenants and landlords. We follow strict guidelines to ensure the proper handling and security of security deposits.
For tenants, we clearly explain the security deposit requirements and the purpose it serves. We guide the necessary steps to ensure the return of the deposit at the end of the tenancy, including adhering to the terms of the lease agreement and maintaining the property in good condition.
For landlords, we collect and hold security deposits by the applicable laws and regulations.
Upon the termination of the tenancy, we carefully assess the condition of the property by the agreed-upon standards. If deductions are necessary, we provide detailed reports and documentation to support the deductions, ensuring transparency and fairness. We facilitate the return of the security deposit to the tenant promptly, in compliance with the established timelines and regulations.
We at Unique Properties understand we understand that the move-in and move-out process is a crucial aspect of any tenancy. We place great importance on conducting thorough inspections and facilitating smooth key collection procedures to ensure a seamless transition for both tenants and landlords.
Move-In Inspection:
We carefully inspect every part of the property, including its fixtures, appliances, and overall condition, during the move-in inspection.. We encourage tenants to take an active role in the inspection, pointing out any existing damages or concerns they may have. Our team documents these details and prepares a comprehensive report that serves as a reference throughout the tenancy.
The move-in inspection report acts as a valuable tool to protect the interests of both tenants and landlords. It establishes a baseline for the property's condition, helping to avoid any disputes or misunderstandings regarding damages at the end of the tenancy. By conducting a thorough move-in inspection, we ensure that the property is handed over to the tenant in a satisfactory condition.
Key Collection:
For tenants, we schedule key collection appointments at our office or the property itself, based on the agreed-upon arrangements. Our team coordinates with tenants to ensure that the keys are available and ready for collection at the specified time. We provide clear instructions on the collection process and answer any questions to ensure a smooth handover.
For landlords, we ensure that keys are securely stored and handed over to tenants in a professional manner. We verify the identity of tenants and document the handover process to maintain a transparent record. We also guide landlords on the importance of providing a sufficient number of keys to tenants and maintaining duplicate sets for emergency purposes.
Move-Out Inspection:
During the move-out inspection, we encourage tenants to be present, allowing them to address any concerns or questions they may have. Our team carefully inspects the property, taking note of any discrepancies and documenting them in a move-out inspection report. This report serves as a basis for determining any deductions from the security deposit, if applicable.
By conducting a comprehensive move-out inspection, we ensure fairness and transparency in assessing the property's condition at the end of the tenancy. We aim to facilitate a smooth and amicable transition, allowing both tenants and landlords to conclude the tenancy with clarity and satisfaction.
We will ensure to communicate via official correspondence in advance of lease renewal notice periods to provide a professional and transparent service to both landlords and tenants. Our expert team will also advise their clients in advance regarding rental increases in the market, in line with Dubai's Real Estate Regulatory Authority rental index.